ELEVEN REASONS TO VOTE FOR THE ELEVENTH DOCTOR
ONE: BOW TIES ARE COOL


No, but they really are. They make him look distinguished, despite his young age. Matt Smith is one of the youngest people to be cast as the Doctor thus far and I think that without the bow tie (say, in the first episode of season five), he looked more like a school boy who'd gotten into a fight. So they are definitely cool in that they give him an air of respectability without making him into someone boring and unrelatable. Yes, clothing can do that to a character. Think of the difference between Ten in Nine's clothes and Ten in his own clothes. Immediately, you felt more at ease with the character. So the bow tie is cool, not only because bow ties are really awesome accessories, but because it's essential to Eleven.
TWO: THE NUMBER ELEVEN IS AWESOME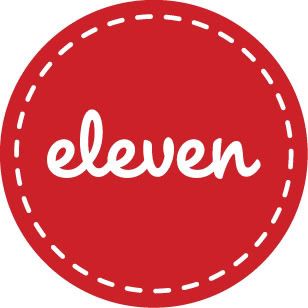 Eleven is a prime number, and it's also two-digit without being all douchey about it. It's not like, "Hey, I'm Ten, the first two digit number!" It's just like chill and whatever. It doesn't have to be the first two digit number, because it's Eleven.

It's also really easy to multiply by Eleven, and it's like a buffer between douchey Ten and that prick Twelve, who ruined the English measuring system by being hard to multiply and divide.

Also, if you put that asshole One together with douchey Ten, you get Eleven. One is an asshole because he's the first "real whole number" and he's all dickish about it when he doesn't need to be. Two and Three just kind of hang back from One because of how much of a jerk he is. But put One and Ten together and the horribleness cancels out to make awesome Eleven.

NOTE: I am making comments on NUMBERS, not DOCTORS. Ten and One were bitchin' Doctors and we all loved them.
THREE: ELEVEN FISHES FOR SHARKS


How many times have you gone fishing and wished you could say you caught a shark? Well guess what? Not only did Eleven catch a shark, but he also pretty much tamed it as well. They went on sleigh rides in the sky with this thing. That's just goddamn awesome.
FOUR: ELEVEN'S ACTOR WAS, HOWEVER BRIEFLY, IN A BAND CALLED "THREE OCTOPUSES AND AN OTTER" WITH CRAIG FERGUSON AND SOME GUY IN A SCARF.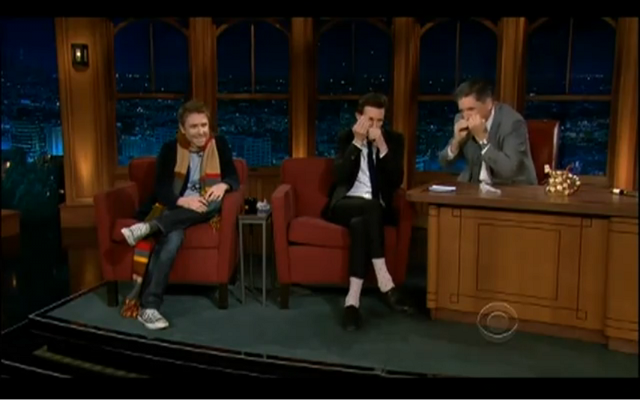 Haven't you ever wished you were in a band? Haven't you ever wished you were in a band with a Scottish comedian who has his own late night talk show and some guy who's wearing an awesome replica of the Fourth Doctor's scarf? Well, Matt Smith was in just such a band for a brief period of time while he was making a guest appearance on Craig's show. He was so good at playing his harmonica/mouth organ that he had it taken away by Craig. Can you play the harmonica/mouth organ that well?
FIVE: ELEVEN TAKES ON ALIEN INVADERS ARMED WITH ONLY A JAMMY DODGER.


It takes a lot of courage to go into battle with nothing more than a biscuit filled with jam for a weapon. It takes an obscene amount of awesomeness to fool your enemies--who, admittedly, don't know enough about sweets to tell a tea cake from a tea pot--into thinking that a biscuit is going to destroy them all if they make the wrong move. He even manages to keep it up until it's time to run! And then, when the tension's over, he's got a tasty snack to eat.
SIX: ELEVEN LIKES APPLES--I MEAN YOGHURT--I MEAN BACON--I MEAN BEANS--I MEAN BREAD AND BUTTER--I MEAN--CARROTS? ARE YOU MAD?--FISH CUSTARD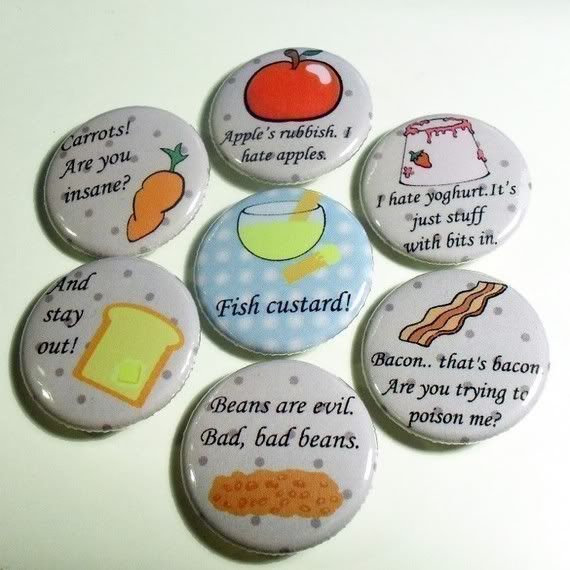 FACT: Steven Moffat admitted that he based this scene largely on Tigger's introduction in Winnie-the-Pooh.

How awesome is that? I remember watching this scene and thinking how fun it was that we got introduced to Eleven like this--not necessarily in the middle of an action sequence where he's figuring out who he is and what he's like. Sitting down at the breakfast table and finding out what works and what doesn't. Also, fish custard? Brilliant, if disgusting-sounding, combination.
SEVEN: MATT SMITH IS GOING TO INTRODUCE STEPHENIE MEYER TO A REAL VAMPIRE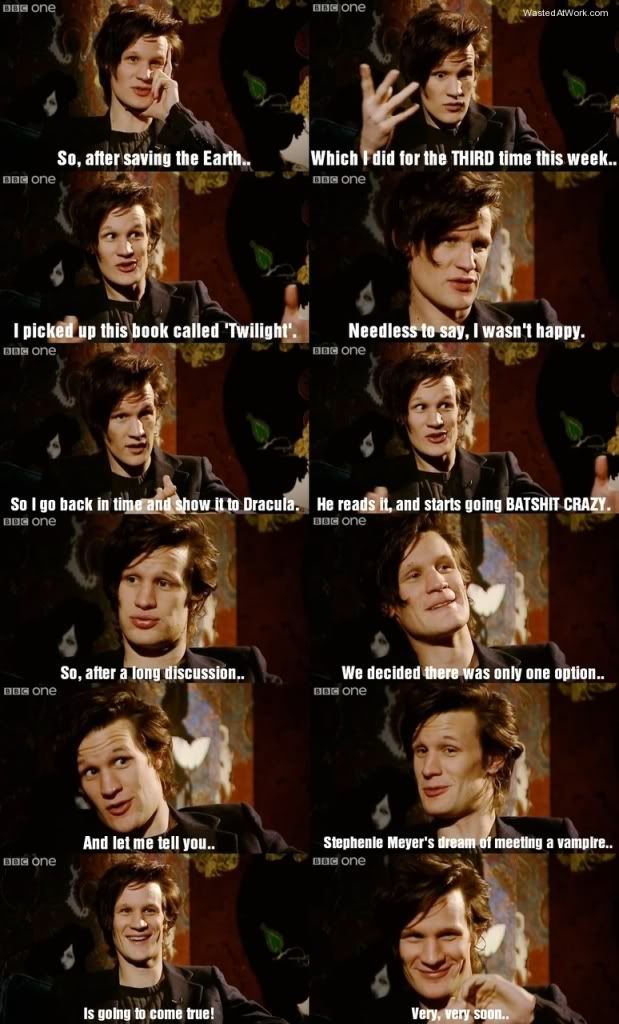 Need I say more?
EIGHT: HE WEARS A FEZ NOW. FEZZES ARE COOL.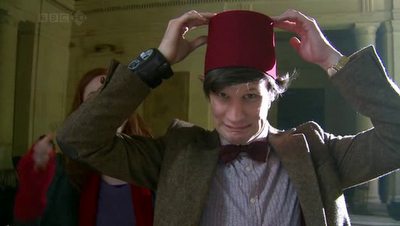 Not only does Eleven not care what you think of his bow tie, he also doesn't care what you think of his headwear. If he thinks a fez is cool, he's going to wear it. You can shoot it if you like! He'll just find another one! This was also one of my favorite jokes and I was very pleased to see that they're turning it into something of a running gag. Check it: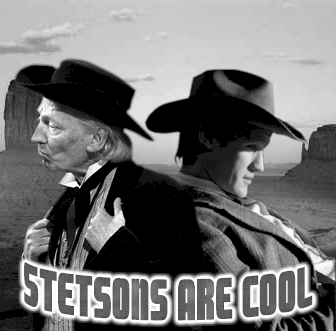 NINE: A VOTE FOR ELEVEN IS A VOTE FOR ALL YOUR FAVORITE DOCTORS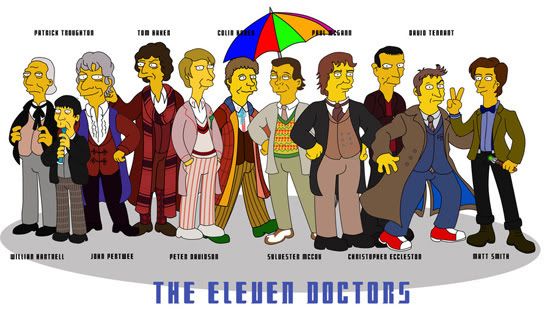 No matter if your favorite was One or Four, Nine or Ten, or even that fop Eight, a vote for Eleven is a vote for one of the greatest shows of all time, and all the Doctors that came before.

(Okay, I'm joking. Eight isn't a fop. He just dresses like one.)

Still kidding, folks. Eight's a cool dude.
TEN: IF YOU VALUE YOUR CONTINUED EXISTENCE, YOU WILL NEVER PUT ELEVEN IN A TRAP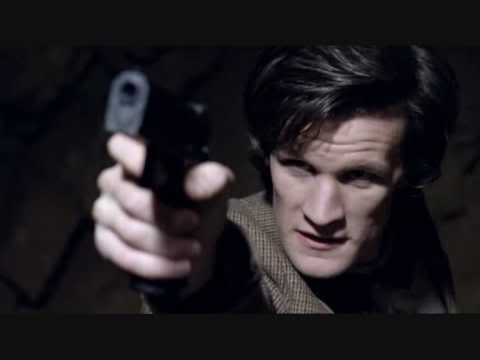 Here's the thing about Eleven. He's got no plan. He's got no weapons. He's got nothing to lose. And he's still scary anyway. He can narrow his eyes or tilt his head and go from friendly to dangerous faster than you're aware. All of a sudden, his whirry screwdriver is a lot more menacing than it was a few seconds ago and you want to know why? You didn't listen to your common sense. And the screwdriver--and the person wielding it--don't take kindly to people who don't listen to their common sense.
ELEVEN: THIS BOW-LEGGED, FLOPPY-HAIRED, BOW TIE-WEARING, HIPSTER-LOOKING, DANGEROUS, PRECIOUS, AMAZING MAN SAVED THE EARTH USING A FEW CHOICE WORDS AND A CELL PHONE.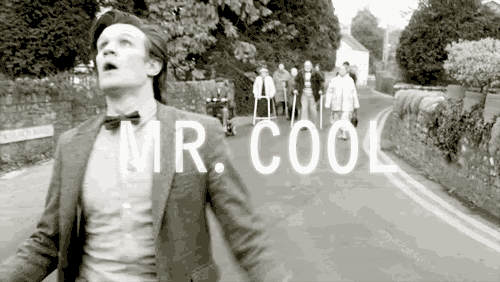 I couldn't find an appropriate gif, alright?!

And you know what he did after that?

He popped out of a cake to save his best friend's impending marriage.


DO THE RIGHT THING.
VOTE ELEVEN.
Current Mood:

excited